The BullStreet District's First Restaurant Hosts Ribbon Cutting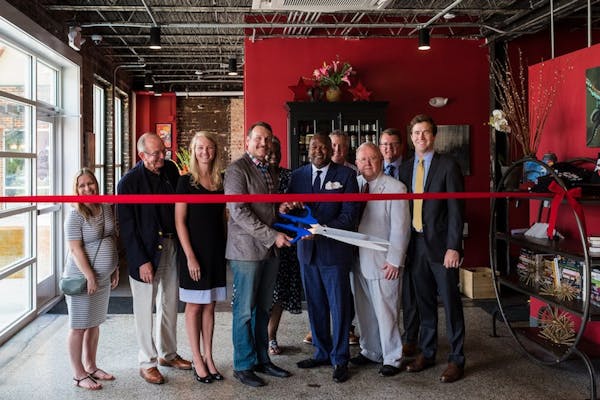 Owner and chef Scott Hall celebrates successful first 3 months and official launch of lunch service, family pick-up orders and catering at Bone-In Barbeque restaurant in the BullStreet District
Scott Hall, owner and chef of the premier Barbeque and Southern-eclectic eatery and cocktail spot, Bone-In-Barbeque, hosted a ribbon cutting on July 30, 2018 with Mayor Steve Benjamin and other dignitaries to celebrate a successful three month "soft opening" as the first restaurant in The BullStreet District. At the official ribbon cutting Hall announced full-time lunch service [11:30 a.m. to 2 p.m.], family pick-up orders, catering, private event space and more.
Remarks were given by Columbia Mayor Steve Benjamin; former Columbia Mayor Bob Coble; Robert Hughes, president of Hughes Development Corporation (HDC) and master developer of the BullStreet District; and Chandler Cox, HDC's project manager for the BullStreet District. Chef/owner Scott Hall thanked his parents, his family, his team and his customers before joining Mayor Benjamin to cut the bright red ribbon stretched across the dining room.
Columbia City Councilman Howard Duvall; Chandler Cox, project manager at Hughes Development Corporation and lead on the BullStreet District project; Bone-In Barbeque chef/owner Scott Hall; Sabrina Odom, exec. dir. of North Columbia Business Association and BullStreet Commission member; Columbia Mayor Steve Benjamin; Sam McGuckin, EVP, Capgemini Americas; former Columbia Mayor Bob Coble; Columbia Chamber president Carl Blackstone; Robert Hughes, president of Hughes Development Corporation (HDC) and master developer of the BullStreet District. Photo: Forrest Clonts
The ceremony was followed by a reception with nibbles and sips from the Bone-In Barbeque menu, and guests were given an opportunity to explore the new 3,600 square-foot restaurant, which includes an airy, relaxed dining room, long wooden bar (handcrafted by Hall and his father), a private dining room for 15-40 guests and a large, dog-friendly outdoor patio overlooking the entrance plaza to Spirit Communications Park, home of the Columbia Fireflies baseball team.
A lunch of heavy hors-d'oeuvres and mini BBQ sandwiches on fresh-baked focaccia was served in Bone-In Barbeque's private dining room. Photo: Forrest Clonts
"We love being next door to the stadium, and we're proud to offer complimentary valet parking for our guests on baseball game days," notes Bone-In Barbeque chef/owner Scott Hall. "Guests can just let parking staff know that they're coming to dine here. The intersection of Barnwell and Calhoun is a great route."
Bone-In Barbeque serves lunch Tues. through Fri. from 11:30 a.m. to 2:00 p.m. The lunch menu features a variety of options from Chef Hall's dinner menu — from the signature bone chips to the Carolina classic BBQ plate — as well as dishes like a Carolina Cobb salad topped with pickled tomatoes and smoked succotash, with a choice of proteins. Dinner is served Tues. through Sat. from 4:00 p.m. to 9:00 p.m., with happy hour from 4:00 p.m. to 7:00 p.m. View menus.
Lunch business has been booming at Bone-In Barbeque in the BullStreet District, which is surrounded by thousands of workers at state agencies, Palmetto Health and Palmetto Richland, the University of South Carolina and law and other professional services offices across the adjacent Robert Mills Historic District and the nearby North Main corridor. Photo: Forrest Clonts
"Now that we're serving lunch Tuesday through Friday, along with happy hour and dinner Tuesday through Saturday, we're really enjoying the downtown lunch crowd," adds Hall. "There are just so many people working within a one-mile radius, from state agencies to Palmetto Health to law firms in the historic district nearby, as well as the Main Street District and the NOMA corridor, and it's been great to see old friends and make new ones each day."
Family Pick-Up Orders
Bone-In Barbeque brings a new way to enjoy barbeque to the table — literally. Family-size pick-up orders are available with at least 24 hours' notice for a sizable menu of fan favorites like 14-hour smoked pulled pork BBQ by the pound, hickory-hoisin lacquered St. Louis ribs, fresh-baked focaccia, pans of brisket mac and cheese, deviled collards, smoked banana pudding and more. View the family pick-up menu.
Family pick-up orders include a family-size pig-pickin' package with 14-hour smoked pork, fresh-made sides, sauces, and desserts like smoked banana pudding. Photo: Forrest Clonts
Private Dining Room for Events
A private dining room with a sliding barn door for additional privacy is available for parties of 15 to 40. Learn more.
Bone-In's private dining room is open for standing room or seated banquets with a capacity of 15-40. Photo: Forrest Clonts
Bone-In Barbeque Catering
Catering for large and small-scale events is offered through Bone-In Barbeque and Scott Hall Catering for events like graduations, reunions, office parties, Lowcountry boils and more. View catering options.
Browse our website for more info on Chef Scott Hall, menus, location + hours and more.